We introduce proposals on the development for some joint purpose and cooperative sales.
"Development of Self-contained Mobile Water Desalination System (600 L/hour)"
The business is intended to develop a combined system "Self-contained Mobile Water Desalination System" that has not developed so far and is capable of producing a large amount of water (600 L) hourly. We are working on the development of a product with an electricity storage system that can ensure water availability essential to peoples' lives and medical services as well as temporary electricity supply with use of power generated by high-performance solar battery panels, for example, in such a situation that the basic infrastructure is destroyed because of natural disasters.
---
New Business Department: "Renewal of Fabric"
Through this business, we have carried out research and development to make general fabric to have additional properties. In the conventional method, it was necessary to start the addition process with raw materials. However, we have developed fabric products that we can add a few different properties to original general fabric at a low cost.
In order to develop characteristic functional fabric, we have placed a focus on cyclic oligosaccharide made of corn starches, so-called, "cyclodextrin" as one of items to be developed. The cyclodextrin can provide fabric with features including:
Odor Elimination
Antibacterial
Bug Proof
Removing and releasing valuable components by inclusion properties
The material is expected to be applied and used in the future.
We will utilize our unique processing technology to promote the development of technologies and market opportunities for providing products that can be largely produced in a roll-to-roll way.

February 2019 Our new business was approved as the "Management Innovation Plan" by Saitama Prefecture.
May 7, 2019 The Japan Patent Office accepted our patent application and granted a patent for production of the fabric.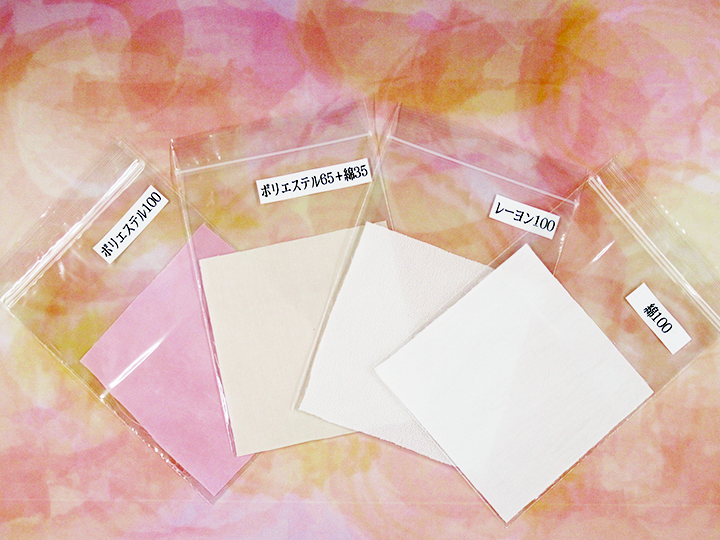 Cyclodextrin-Impregnated Fabric Samples